Stuffs from Taobao,Volks,Dollmore,Crobidoll and Coolcat…..Gosh,is May 2013 a shopping month??
It has been six or seven months since we lastly bought so many things within a month.
5月份是"購物月"嗎?
淘寶,V社,Dollmore,Crobidoll 加 Coolcat,這個5月份成了狂購物月了。已經好久沒有買這麼多娃衣與配件給女兒們了,這個月真是大出血了!
雖然買得還挺多的,可是似乎還是不能做到"皆大歡喜"。。。還是不夠分給所有的女兒們,有人歡喜有人愁。。。怎麼辦呢?。。。
上個星期,某一天的下午。。。(獻上英文版的小故事)
A parcel from Crobidolls Korea has just arrived….
Mariko,Hana and Haruka were watching tv in the living room when the deliveryman came to deliver the parcel.

Mariko : This is already the 4th parcel this month,I wonder what is inside?
Haruka : Haruka wants to know if there is anything for me inside this parcel…
Hana : Quick,lets get a pen knife or scissors to open it.

Haruka took a pen knife from one of the drawers excitedly.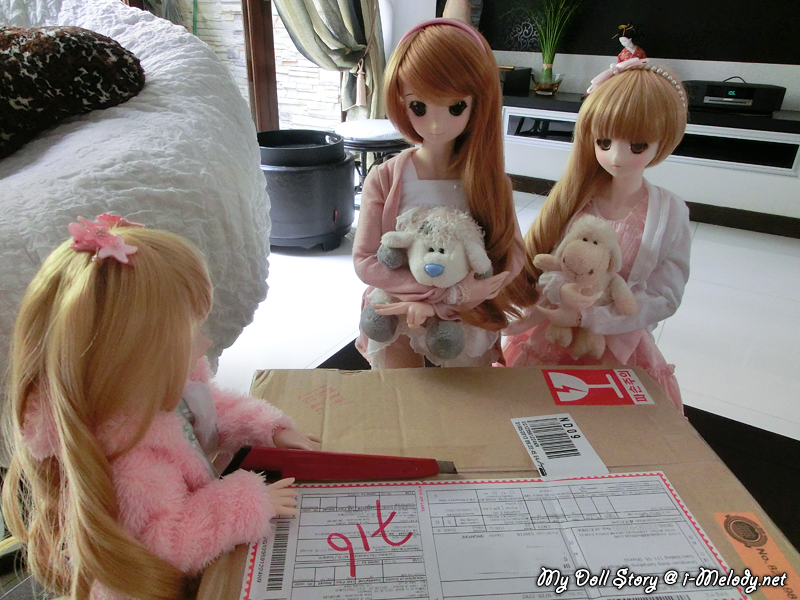 Mariko : Hey Haruka,be sure that you would not cut yourself when handling the pen knife.
Hana : Do you need my help?
Haruka : No worries,Haruka can managed.
Parcel Opened….

Haruka : Wow….
Mariko : Wow,there are so many wigs inside…
Hana : They are from Crobidolls.
The three girls went through the items in the box and picked some of their favorites.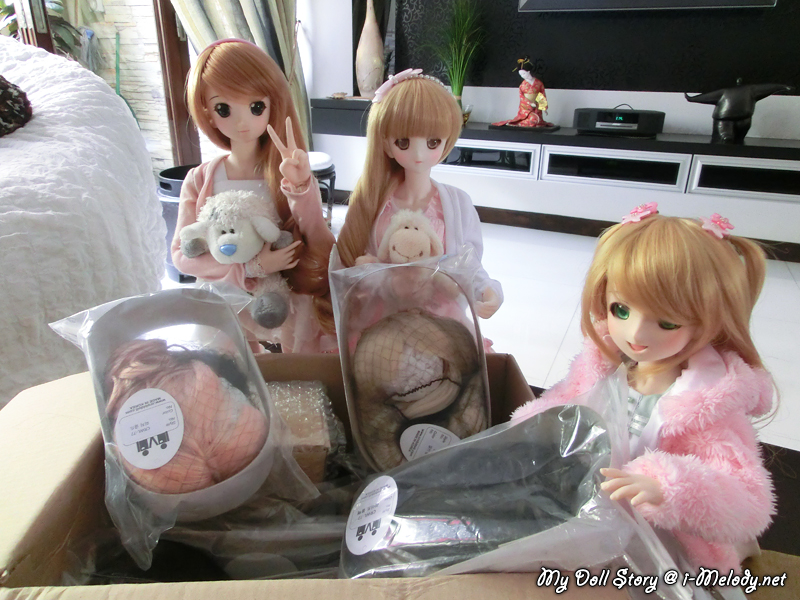 Hana : This pink wig is beautiful….Hana likes pink most…
Mariko : I like this blond wig.
Haruka : Haruka wants this black wig!
Hana : Can i have two wigs since there are so many inside? *giggling
Mummy comes into the living room….
Mummy : Hi girls…
Mariko + Hana + Haruka : Hi Mummy….
Mariko : The parcel from Crobidolls has just arrived,and we……we actually opened it without your permission…we are so sorry. *gulity

Mummy : Not to worry Mariko,some of the wigs inside are for you and your sisters….let me see which are the ones….
Haruka : Haruka wants the two tiara…
Hana : May Hana have two of the new wigs please?
There are six wigs and two M size Tiara in total. The mug and apron are gifts from Crobidolls.
Mummy : Wig No.77 Pink,No.34 Black,No.89 Black and one of the Tiara belongs to your Aunt Michelle,the rest of the wigs and other tiara are ours.
Mariko : Huh? Only three of the wigs are ours? *feeling a little disappointed
Hana : The pink wig is for Aunt Michelle's girls? Hana wants…
Haruka : Haruka still has one Tiara *feeling contented
Mummy : I am sorry girls….I was just trying the wigs out for the first time,thus i decided to pick only three.
Mummy : Moreover,other wigs that i wanted are out of stock,do not be unhappy,i would get more for all of you the next time.
Mummy : Alright,Mariko,try on this Milky Blond wig
Mariko : Mum….Mummy,you mmmmmmeant me? This is for me? *feeling touched

Mariko put on the new wig….
Mariko : How do i look? Is it suitable for me? The hair seems very thick…
Hana : Hana is jealous….
However….after some trials,it ended up to be…..

Hard to decide – Mariko or Alter?
Neris,Yuki and Saber Alter each took one….
The two new black wigs are mend for Neris and Yuki,as for the milky blond one,I still could not decide if Mariko or Alter looks better in it? Currently,Alter is wearing it….oops,i know i am not a fair mummy….Hana,Mariko and Haruka are feeling very unhappy now,they helped to open the parcel,but none of the items are for them.


Fortunately this is not the only parcel that arrived in May….there are more loots from Taobao,Volks and Coolcat.
These are some from Dollmore,although half of these belongs to their Aunt Michelle again….oops….

I gave a white dress to Hana and a white cardigan to Mariko. None of the stuffs fits Haruka as she is a MDD. I would try to find some stuffs at the upcoming DP8 to pacify this little happy girl…heehee