We will like to introduce our two "reporters" for today's post.
Akira (following picture -left) and Mariko (following picture – right),they would be taking over the writing of this blog post from now….
It is our very first Christmas in Singapore with our DD family,thus it is extremely special for the both of us. However we do not have the beautiful Christmas tree and decorations display at home for this year,so we decided to go down town for some photo shoot.
Mummy brought us to Orchard Road for Christmas shopping last weekend,so we brought our camera along to take some pictures.
It was a rainy day so all the pictures were taken indoor…..Sadly,the pictures of us with those huge Christmas trees did not turn out good,but one of the view of the tree does turn out pretty well. This large Christmas tree is four-storey tall. This shopping mall(Ngee Ann City) would put up this huge tree with different decorations and lightings at the same spot yearly during December. We were at the second storey of the mall when this picture was taken.
Almost every stores are having their year-end sale…..Then we stopped by at a designer boutique at Paragon for some shopping. While shopping at the upper floor of the boutique, we spotted this little couch at the side of a display shelf, it is just the right height and size for the both of us to sit.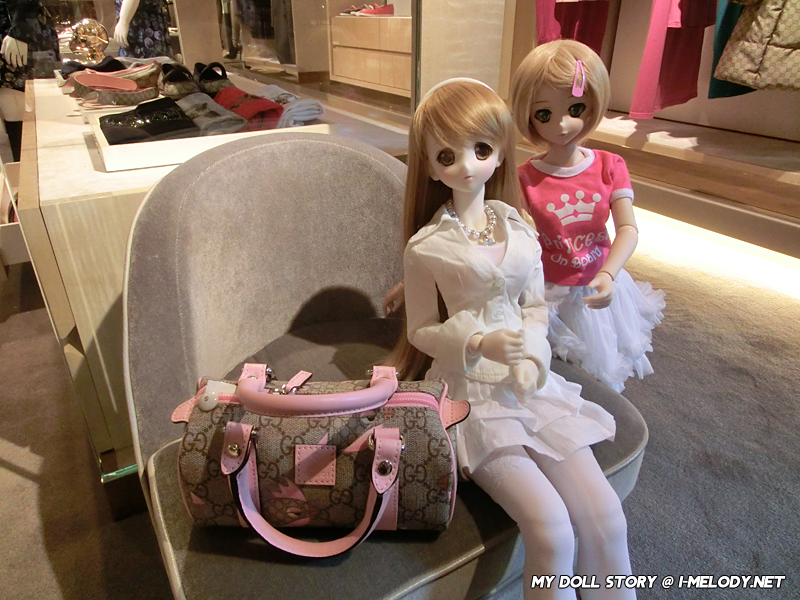 Akira : Hey Mariko,please put the bag aside so that i could sit down and take a rest after this long shopping.
Mariko : Ermmmmm…you meant put the….the bag away? But….Mummy told us not to touch the display in the stores.
Akira : Alright,fine….nevermind,i shall move the little bag away on my own…
Mariko : …..
Akira took up the bag and sat down on the little couch beside Mariko
Akira : This bag looks cute,and its my favorite color,just that its slightly too big,if not i would want mummy to buy one for me.
Mariko : This bag is for kids,its definitely too big for us….alright,put it back
Mummy : Girls,come over here for some cocktail drinks…
Mariko & Akira : Alright mummy,we are coming….
We found ourselves a comfortable corner on the table just beside our cocktail.
Akira : It seems that we have become the center of attraction here.
Mariko : I guess so….so many people were asking mummy about us and where she adopted us and so on….
While our mummy were chit-chatting with the boutique assistants,we continued to "explore" other parts of the boutique.

Mariko : Hey Akira,look what i found,a smaller pouch that we could use as handbag,although its still a little too big.
Akira : Not bad….(playing with the petals of the fresh flowers)
Akira : Let's go over the other corner of the boutique to take more pictures.
At another corner of the boutique….
Mariko : I kinda like this lamp….
We took quite a couple of pictures beside this lamp,the following picture is one of our favorite picture.
We were trying to capture the large Xmas tree behind us into the picture as a background,however it do not seem to be very visible after all…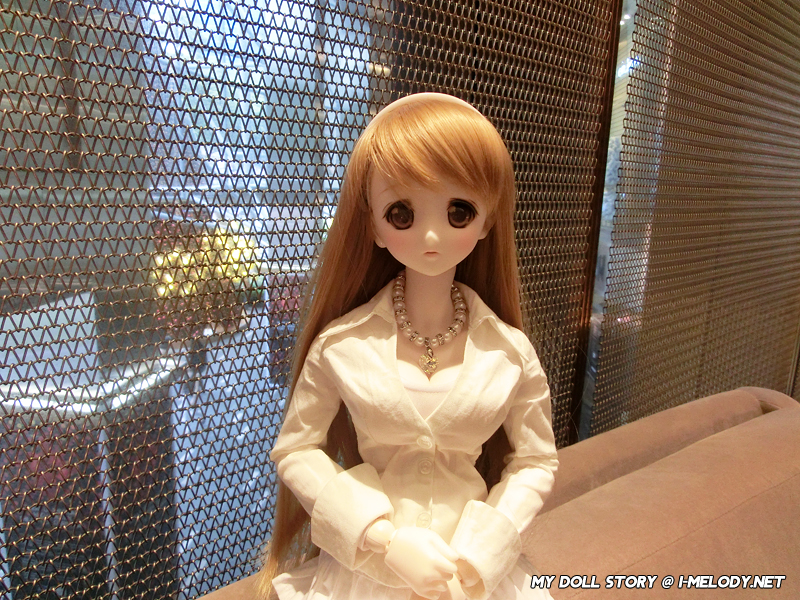 Akira was admiring herself in the large mirror while Mariko was trying to capture more shots of the Xmas tree with her camera.
And finally from another window of the boutique,we managed to get a much clearer view of that tree.
One more last picture with the large Xmas tree in front of Paragon shopping center and the gold teddy bear before leaving the boutique…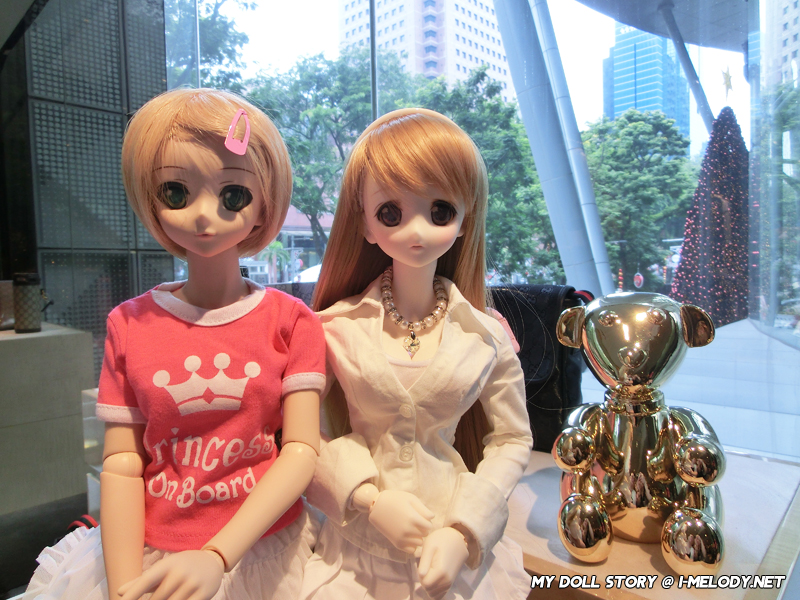 We went home after that thus we did not have much chances to take pictures of other xmas trees and decorations in other shopping malls. We planned to make another trip down to Orchard Road to re-take the pictures,hopefully it would be a brighter sunny day.