I was supposed to complete this blog post last week,however i delayed again and again because i was busy making a new doll wedding gown.
Till today,the last day of Chinese New Year celebration,i know i have got to get it done.
I have consolidated all pictures taken during different days of CNY into one post.
原本就應該在新年的第一個星期就完成的網誌,我卻拖到十五"元宵"的晚上才來更新
這一個多星期來一直忙著縫製新娃衣,照片拍好了擱在一邊。。。元宵了,我知道不能再延後,一定要今晚完成了
就長話短說,簡約一點,把過年期間拍過的所有照片都擠在一篇網誌吧。
My ancient beauty, Hana would like to wish everyone a very Happy "Snake" Year!
今天是元宵,Hana化身為古典美人給大家拜年。
第一次給我家的DD嘗試古裝造型,效果還蠻不錯的!
原本的"模特兒"應該是小妹Mariko或大妹Mia(Yukino),但是胸圍部份不合適,唯有Hana穿得比較合身,就臨時換了。
Its the first time i am dressing my girl in ancient style outfits. I think this look is nice.
My original plan was to either try it on Mariko or my eldest girl Mia(Yukino),however the chest part is too tight,they could not fit,so i would have to change my "model".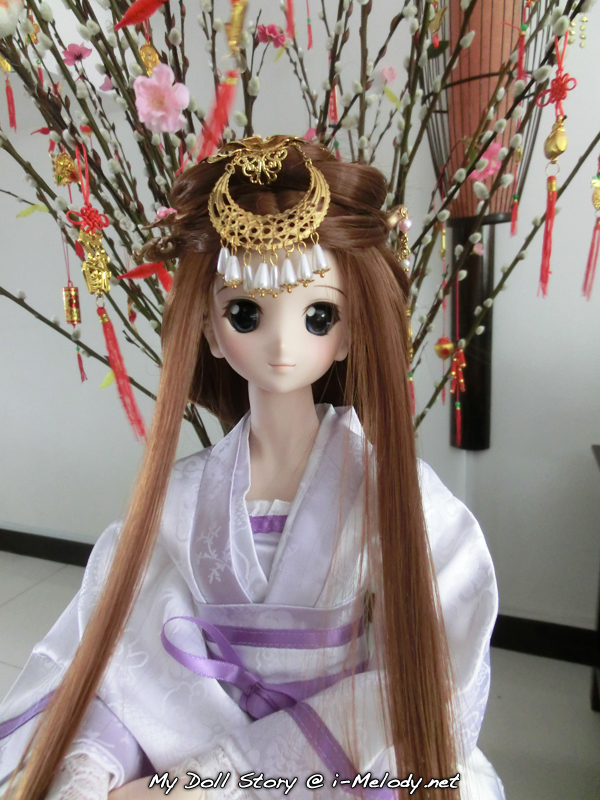 今天下午,Michelle在臉書預先貼了一張Hana的新古裝造型,有朋友在問這套古裝娃衣和頭飾是不是我自制的,其實不是啦,是在中國定製的。
我的專長都是婚紗和晚裝居多,還未嘗試縫製過古裝娃衣,也許過陣子完成手頭上的娃衣,應該嘗試挑戰一下。
這套古裝娃衣還蠻飄逸及性感的。。。裙子部份完全沒有縫合。
This afternoon,Michelle posted a preview of Hana in this outfit on Facebook,and some friends were asking if the outfit was made my me…..however it was not my creation,i ordered it from China. I have not tried making ancient style outfits before,mine were mainly wedding gowns and Victorian gowns. Perhaps i should try making one after i have complete the project that i am currently working on.
LOL…looks like its quite a sexy ancient dress.
還有一件,現在才曝光。。。。
我向Michelle借來給Mariko穿的,幻身為"小白狐"
This is another ancient outfit…..
I borrowed from Michelle for Mariko to try on.
回歸現代。。。。
過年對於小孩們來說,一定是少不了紅包
身為我的DD家族最年幼的妹妹,拿到的紅包當然也是最多的
她在新年前幾天才剛到我家,一直都沒有給大家介紹。。。。
她就是香香,也就是原本的DDS天海春香,我家的第一個MDD妹妹,
雖然很多人都不多喜歡她,但我覺得她好可愛呀!看到她的笑容,我總覺得很開心。
首次與大家見面,香香祝大家新年快樂,笑口常開(和她一樣),天天開心,新的一年多添一些DD女兒
Children always love Chinese New Year very much because its a time when they would receive a lot of "Ang-Bao" (red packets)
Being the youngest in the family,Haruka Amami,my new MDD sweetie received the most ang-bao this new year.
She just arrived a few days before Chinese New Year,thus i have not have time to introduced her to everyone.
She is Haruka Amami,originally a DDS but now on with a MDD body,she is my first MDD girl.
I named her "Xiang Xiang" in chinese.
Many people disliked her,but i find her very adorable.
Michelle的女兒Akira也來我家拜年。
Michelle brought her Akira over to my place to celebrate the new year.
大家都有紅包。。。。
等一下,好像出了一些小狀況了,原來Akira沒有拿到哦。。。。
Everyone each have an ang-bao
however Akira was upset as she has not received any….
幾乎大家都到齊了,只有Neris和Saber Alter沒有旗袍,所以就沒有出現在照片裡面。
除了大妹Mia之外,其他女兒都是第一次與我過農曆新年,可惜旗袍數量不足,又加上旗袍尺寸出了一些狀況,原本打算帶她們去牛車水拍照,最後都沒有去。
這個新年經常下大雨,幾乎不可能外拍,雨天也令我感到懶洋洋的,哪裡也不想去。。。。
所以照片都是在我家的客廳拍的。
I managed to gather all girls in these pictures except for Neris and Saber Alter because i do not have enough cheong-sam for all of them. The original plan was not like that but the measurement of those cheong-sam went wrong,some girls could not fit thus i have got to change my plans.
This Chinese New Year is a rainy new year,we were almost getting heavy rain daily. I was hoping to bring the girls to Chinatown for some CNY decorations photo-shooting,however the rain turned me off. I was lazy to go out for photo-shooting,so all these pictures were mainly taken in my living room….
最後再貼多一張香香的照片。。。。新的一年,大家一定要像她一樣,天天都笑口常開哦!蛇年快樂!
One more picture of Xiang Xiang
In this new "Snake" year,hope everyone would be as happy as her,Happy Chinese New Year!