We had our lunch and move on to our next destination. We're at the S.E.A. Aquarium. It is the world's largest aquarium accredited by GUINNESS WORLD RECORDS™. The aquarium contains more than 800 species of marine animals, and the aquarium is home to majestic manta rays, enormous goliath grouper, napoleon wrasse, and other gentle giants of the sea. So now, lets embark on our journey!
===================================================================================================
吃過午餐之後,我們前往下一個目的地,來到了S.E.A.海洋館。S.E.A.海洋館是解尼斯記錄中,全球最大的海洋生物館。它匯集了超過800種海洋生物,其中包括雄偉的鬼蝠魟、伊氏石斑魚、路氏雙髻鯊等龐然生物。現在我們就開始我們的探險旅程吧!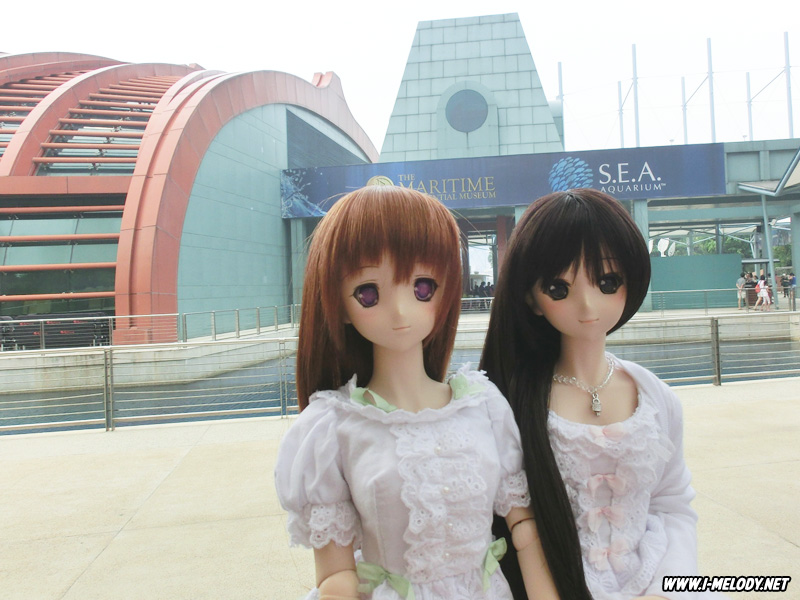 PS:Click to view larger resolution of the photos. 
PS:請點擊圖片欣賞加大像素的照片。
Before reaching the underground tunnels of the SEA Aquarium, vistors were welcome with the history of Maritime history. Let's take some pics before we move on.
===================================================================================================
一入場, 我們就看到一些航海的歷史介紹。例如以前,各國如何利用航海來運貨,一些關於航海的儀式等。而且我們還看到歷史記載的挪亞方舟噢!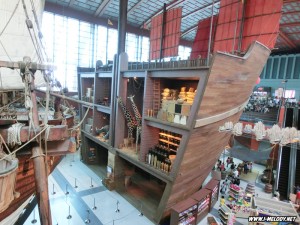 We've now entered the tunnel of the aquarium, and our official adventuress starts NOW!
PS: Please forgive us as the tunnels are not so well lit., therefore some photos might be a bit darker.
===================================================================================================
我們終於來到了海洋館的入口啦,現在就開始我們的海洋探險之旅吧!
PS: 由於在隧道裡燈光不足,所以有些照片不是那麼的亮,請多包含。
And now we're at the section called Ocean Journey. As you make your way further into the ocean, come face-to-face with our indo-pacific bottlenose dolphins. Learn the surprising facts about these speedy swimmers as they enthrall you with their underwater grace and prowess.
Nearby, immerse yourself in the magical and mesmerising world of synchronised fish! Few marine scenes are more intriguing and hypnotic than a school of fish swimming in unison. In an instant, the school changes direction with none of the fish colliding into one another.
Check out the cool marine life in the Cold Water habitats such as giant spider crab, chambered nautilus and other unique species. Recharge your energy with the electrifying pulsating dances of the translucent sea jelly species like the trailing long-tentacled lion's mane sea jelly, the captivating neon blue sea jelly and the larger-than-life moon sea jelly.
===================================================================================================
我們現在來到了名為大洋旅程的部分。當可愛的印度太平洋瓶鼻海豚趨前與您面對面打招呼時,您發現自己已完全融入海洋世界的奇妙中。近距離欣賞這群游泳高手利落矯捷的泳姿以及動人的優雅氣派,也別忘多多瞭解關於海豚的有趣資訊。
在不遠處,成群魚兒正以協調劃一的動作與速度遨遊著,可謂海洋世界裡難得一見的奇景。而當眾人觀賞得出神時,魚群又瞬間改換方向,依然無一掉隊或相撞,實在讓人嘖嘖稱奇,陶醉其中。
接著隨我們到冷水棲息地,窺探各種冷水生物,如巨鰲蟹、鸚鵡螺等獨特物種。通體透明的水母家族也等著為您飄舞助興。無論是馬賽克水母、閃耀藍色螢光的彩色水母,還是體積驚人的海月水母,都將以活潑迷人的律動為您的旅程灌注歡樂。
We have reach the center of the attraction, known as Open Ocean. This magical realm is home to gentle giants of the sea including the leopard shark, goliath grouper, saw fish, mahi mahi and a never-before-seen squadron of magnificent manta rays. Watch poetry in motion as glittering schools of scads, fusiliers and rainbow runners create a continuous dance in perfect unison.
===================================================================================================
我們來到了海洋館的其中一個賣點,名為深海奧秘。深海奧秘帶給您絕無僅有的海洋體驗。置身在變化多端、繁若星辰的水族物種前,曾經遙不可及的深海世界此刻就在您身邊。陶醉在全視野海底美景中,讓您的想象力自在遨遊。豹紋鯊、伊氏石斑魚、鯕鰍以及前所未見巨型雙吻前口蝠鱝魚群等龐然生物將帶著您探索它們的海底家園。此外,一群群鰺魚、梅鯛、紡錘鰤等將為您舞動一支群游協奏曲。魚群排列在整齊的隊伍中,並以完美的協調感來回悠游,片片鱗光閃爍水中,讓您賞心悅目。
Let's move on with our journey!
===================================================================================================
我們現在就繼續我們的探險之旅吧!
We have reached the Shark Seas. Showcasing the majestic predators of the marine realm, Shark Seas is one awe-inspiring habitat that you will remember forever. Be transported right into an exciting world of various shark species. There are many that you will see for the very first time together with endangered species such as the scalloped hammerhead shark, the powerful and aggressive silvertip shark, and the sandbar shark – one of the largest coastal sharks in the world. Marvel at the strength and grace of these remarkable creatures that have inhabited the earth for over 420 million years!
===================================================================================================
我們現在來到了鯊魚海域。游走海中之王的棲息地帶,鯊魚海域帶給您的驚喜絕對畢生難忘。看威風凜凜的獵食者在眼前成群悠游,絡繹不絕的鯊魚品種爭相亮相。除了您前所未見的稀有品種,您也有機會一睹瀕臨絕種的路氏雙髻鯊、凶猛激進的白邊真鯊以及世界最大的沿海鯊魚之一-闊口真鯊。在地球上生存了四億兩千萬年的鯊魚絕對有發掘不完的魅力,趕快來領略它們凶悍外表下的優雅氣勢!
We have finally completed the tunnel walk! After leaving the aquarium, we took some final photos and have decided to go back to USS for another round of fun!
===================================================================================================
終於完成了隧道的旅程。離開了海洋館,我們和一些傳說中的歷史人物合照。Yuki也和可愛的粉紅海龜拍照。之後,我們就和海洋館說再見啦。
To read more about SEA Aqurirum, please visit their official website below.
===================================================================================================
想要知道和了解更多關於SEA海洋館的資料,請點擊以下網址查看。
http://www.rwsentosa.com/language/en-US/Homepage/Attractions/MarineLifePark/SEAAquarium