21 Dec 2012, some rumor that it is the end of the world this day. But this day also happens to be the Dongzhi Festival (冬至) in the chinese calendar.
Saber finally gets to sit down and enjoy her glutinuous rice balls, when she heard someone calling her.

Saber: "Yes Neris?"
Neris: "What are you eating? I want to eat also! Where's mine share?"

Saber: "This is called tangyuan or balls of glutinuous rice. They are made of glutinuous rice flour, may be plain or stuffed, can also be cooked in a sweet soup or savoury broth."

Neris: "Hum, I want to eat also!!I I go look for mummy and get her to give me a bowl."
After a few mins, Neris come back and see what she got???

Neris: "See! My one is a much bigger bowl than you! hahaha. But mummy cook it in black sugar so the soup is dark in color. The big one comes with fillings and the small one are without any fillings."

Neris and Saber wishes all a happy Dongzhi Festival.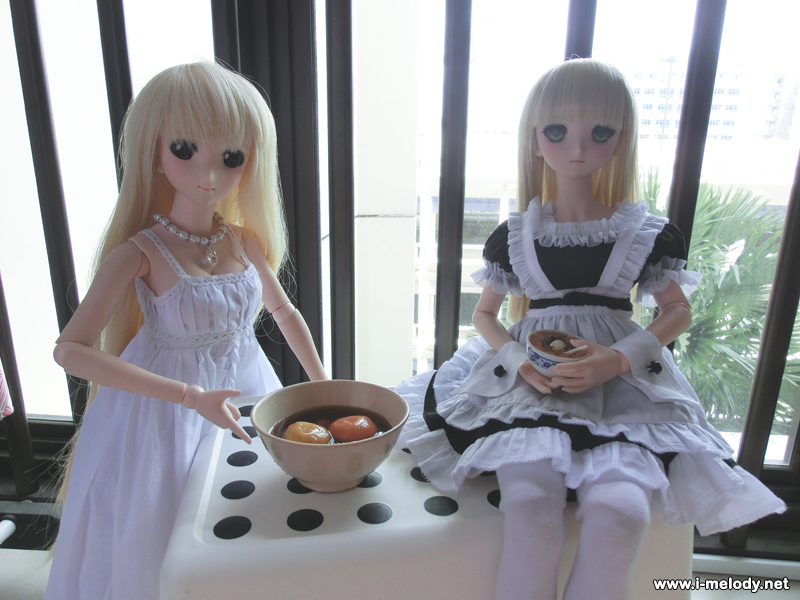 The making of Tangyuan:
Glutinous rice flour is mixed with a small amount of water to form balls and is then cooked and served. Usually a bit of food coloring will be added to part of the mixture, most commonly red color, to make the pink and white glutinuous rice balls as shown in the photos.


*Special thanks to Fiona for the above 2 photos.
The Dōngzhì Festival or Winter Solstice Festival (Chinese: 冬至; pinyin: Dōngzhì; literally "the Arrival of Winter") is one of the most important festivals celebrated by the Chinese and other East Asians during the Dongzhi solar term (winter solstice) on or around December 22 when sunshine is weakest and daylight shortest.
Traditionally, the Dongzhi Festival is also a time for the family to get together. One activity that occurs during these get togethers (especially in the southern parts of China and in Chinese communities overseas) is the making and eating of tangyuan (湯圓) or balls of glutinuous rice, which symbolize reunion. Tangyuan are made of glutinuous rice flour and sometimes brightly coloured. Each family member receives at least one large tangyuan in addition to several small ones. The flour balls may be plain or stuffed. They are cooked in a sweet soup or savoury broth with both the ball and the soup/broth served in one bowl.
When served in sweet soup, the most common will be water cooked with rock sugar or black sugar. Some likes to add some ginger for a richer taste. It can also be served dry, by coating it with grounded peanuts and sugar after they are boiled. Some also serves it with other deserts like red bean soup and black sesame soup.
The festive food is also a reminder that we are now a year older and should behave better in the coming year. Even today, many Chinese around the world, especially the elderly, still insist that one is "a year older" right after the Dongzhi celebration instead of waiting for the Chinese New Year.
*Above Information abstracted from Wikipedia. To read more about the festival, click here.
To read more about Tangyuan (glutinuous rice balls), click here.
Chinese Summary:
冬至,中國華人其中一個重要的日子。在這天,家家戶戶都會團圓吃湯圓。華人相信,冬大過天,在冬至這天吃湯圓,象征又大了一歲。湯圓,則是使用了糯米粉,加水,搓成一粒一粒。不同國家和習俗,都有不同類型的湯圓。但基本上是甜,鹹之分。據傳,湯圓起源於宋朝。當時各地興起吃一種新奇食品,即用各種果餌做餡,外面用糯米粉搓成球,煮熟後,吃起來香甜可口,饒有風趣。因為這種糯米球煮在鍋里又浮又沉,所以它最早叫「浮元子」,後來有的地區把「浮元子」改稱元宵。大部分中國南方人家習慣在春節早晨都有合家聚坐共進湯圓的傳統習俗。據說元宵象徵合家團圓,吃元宵意味新的一年合家幸福、萬事如意。