Yes! It is the time of the year! Well, I think Christmas is one of the festive holiday that everyone looks forward to. Pretty lightings, nice food, presents that everyone looks forward to.
Just the weekend before Christmas, Lily and myself, together with our mummies, we went for a christmas photo shoot at Orchard Road. The theme for this year 2013 is blue color. Along the road of Orchard Road, it will be decorated with nice lightings. Shopping centers have also put on beautiful decorations items for the festival. We're so excited that our mummies are so helpless cos we just cannot concentrate and looks at the camera. So come on and join us while we take a walk down orchard road.
=====================================================================================
又是一年一度的聖誕節啦!我想聖誕節是其中一個大家向往的節日吧!漂亮的燈飾和聖誕樹,美食佳餚和許許多多的禮物。在剛過的周六,我和莉莉還有我們的媽咪去了烏節路。今年的燈飾藍色為主題。街道都懸掛著靚麗的燈飾和擺設,各大購物商場也披上了漂亮的"服裝"。我們開心到拍照都不能專心,我們的媽咪都好無奈,哈哈哈。現在就隨我們一起來感受一下聖誕的氣息吧! 走!
The christmas tree behind us is made of different macaroons. Does it makes you hungry?
我們身後的聖誕樹是由馬卡龍做成的,大家是不是很想要咬上一口呢?

The christmas tree behind us is approx 3.5 storey high, isn't it beautiful?
身後的聖誕樹高幾乎3層樓噢!是不是很漂亮呢?

Deco behind is the teddy bears and is a yearly item of Takashimaya. How i wish i can snatch one.
小熊擺設是新加坡高島屋的特色。每年這個時候,他們都有很多七彩顏色的小熊,是不是很想要搶走一個呢?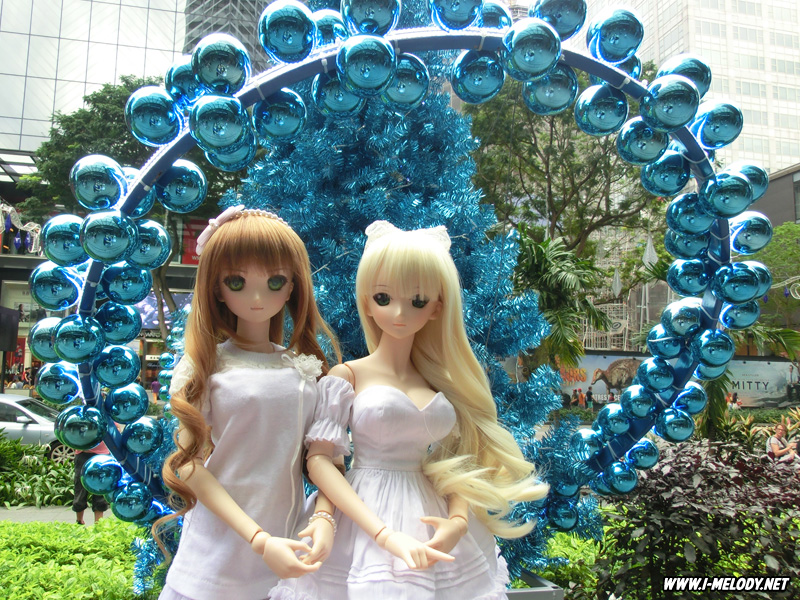 How can we ever forget the main character of Christmas, Santa?
聖誕節又怎能少了最重要的聖誕老人呢?

Saber: "Mummy, can I have this little train for christmas present please?!?!"
Saber: "媽咪,我能要這個小火車作為我今年的聖誕禮物嗎?"

Lily is so attracted to the little toy train……
莉莉被玩具火車完全吸引了……..

We're so tired after so many shoots and the long walk. Finally we have finish our photo shoots and we can take a rest now!
拍了這麼多照片,大家都累壞了。我們終於完成了今天的外拍,可以休息啦!

Last but not least, we hereby wishes everyone a Merry Christmas and a Happy New Year!
==========================================================================================
在此,我們祝福大家聖誕快樂!也希望大家在來臨的一年能平安幸福噢!