Finally got it for such a long waiting.
Remembered getting "this" from Yahoo Japan on the 17 July,and today is 17 September,its exactly two months….
Here she comes….
And the story goes….
Neris : Hey Hana….look at this
Hana : Why is there a huge parcel here? I wondered what is inside?
Neris : Could it be those clothing and accessories we bought from taobao recently?
Hana : Hmm,i don't think those items would arrive so soon,and clothing are not "fragile"….
Neris : Lets open it and see….
Hana : Ok….I am pretty excited to see what is inside,but would mummy scold us for not asking her permission before opening it?
Neris : I think she deliberately left it here for us.
Then the two girls opened the huge box….
Box Opened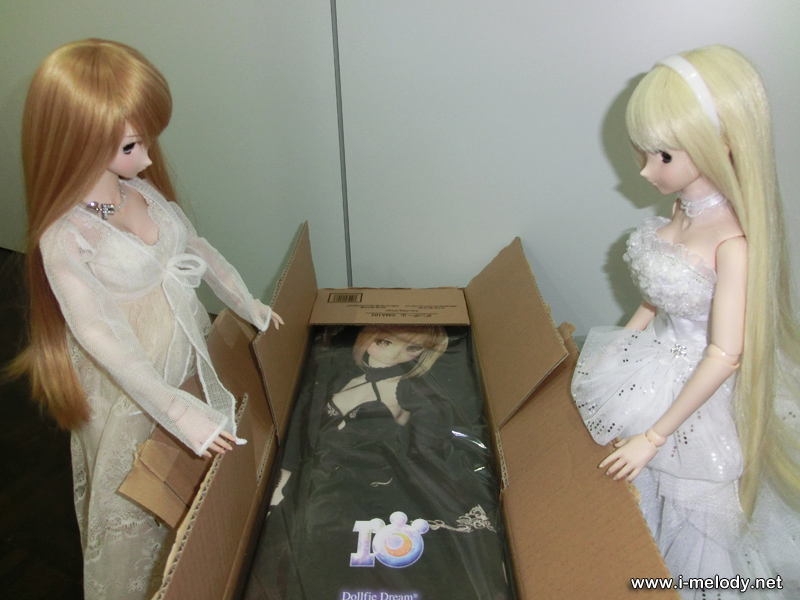 Neris : Oh…..now i know….
Hana : Its our new sister Saber Alter,she's here finally!
Hana : This is tough! The box is too heavy for us to carry….Look at me,my hair is in a big mess,my necklace,my dress….
Neris : We wore the wrong outfits today. We should have changed to something casual before opening the box….well…perhaps this is why its called "The Grand Opening".
Hana stared at Saber Alter's picture on the box
Hana : Wow,she is really a beauty and her box is so big and nice….i am jealous,i don't even have my own box.
Neris : Lets not feel jealous about anything now,get back to work. We will take some pictures with the box now and let her out quickly
Hana : Yeah,poor girl….She must have been locked in the dark for a long time,hope she is fine.
Neris : The pictures don't seem to turn out very well,i looked so pale….
Hana : Nevermind,we will take during the day time another day,let the poor girl out first…
As the girls slowly pushed up the cover of the box,light entered the box…Saber Alter was very affected by the "sudden brightness" after being locked in the dark corner for a long time.
Saber : Oh,its so bright…
Neris : Are you ok?
Saber saw two strangers staring at her curiously from outside the box….she asked….
Saber : Who are you? Where am i?
Neris : Hi Saber,let me introduce myself. I am your second sister Neris,and this is your third sister Hana.
Hana : Hi Saber….Your elder sister Mia is not here today,you'll meet her someday.
Saber : Sisters??? Confused*
Neris : Yes dear….mummy adopted you two months ago,but could not picked you up personally from her friend in Japan.
Hana : Another friend of hers happened to be in Japan last week for work and he helped to bring you back.
Saber : Oh i see….Hi Neris,Hi Hana…
Neris and Hana helped Saber out of the box and check her body throughly to make sure she is fine.
Saber reluctantly walked out from her box "nude"…
Saber : Erm….do you have some clothes for me to wear temporary? I don't want to appear nude in the pictures…
Neris : Hmm,let me see….You are a M bust DD,just like what i used to be,there is a lot of clothes you can fit,let me go and find….
Neris and Hana went through a couple of clothing boxes and found something for Saber….
Saber sitted on her box feeling very uncomfortable about her nudity…
Neris : I found something for you. Mummy bought this gown specially for you last month,however you weren't back at that time,so we keep the gown aside till now.
Hana : Before you put on anything,wear this white body stocking and the silicon wig cap first. It could protect you from clothing stains thus its a must for us to wear it.
Neris : You must protect your skin well especially you are a white skin DD.
Saber took quite a long time to put on the body stockings because her body is so stiff after lying in the same position for so long.
Saber : Sorry about the waiting,the body stocking is not easy to put on…
Hana : No worries
Neris : Here's the gown,try it on to see if it fits? Nobody tried it on before,i hope its the right size for you.
Saber : Would i look weird wearing a long sleeves body suit with a gown?
Neris : Hmm…..not sure,try it on first…Giggling*
Neris handed Saber the gown and the accessories
20 minutes later…
Saber walked out in the gown…..
Hana : Wow….
Neris : That's nice!
Hana : Come on,turn to the front so that we could take some pictures for the blog.
Saber : Nice? Really? I have never dressed in a gown before…its a little tight but still managed to put it on.
Neris : Ready,smile…..Snap* Snap*
Saber : Oh,that flash light is so strong,i am seeing stars now….
Before Saber could respond,Neris and Hana took a close up shot of the three of them….
Snap* Snap*
Saber : Oh,not again?
Neris : Girls,smile….
The three girls took a few more pictures before clearing away the big mess they have created while opening the box and dressing up Saber.
Neris : One more last shot before ending off.
Hana : Too bad Mia is not with us today,if not we could have took a perfect picture of the four of us….
Neris : Another time….Its already 10.30pm now,we better clear up this mess before mummy sees it.
Mummy : Neris,Hana,i see that both of you have let your younger sister out of her box,hope the three of you could get along well. Remember to clear up the mess before going to sleep.
Neris : No worries mummy,we got along well and took many pictures together. As for the "mess",we will get it done now.
The three girls proceeded to clean up the mess,keeping the clothing back into the boxes,putting away the parcel carton etc….