Had a mini doll meet with Michelle's girls to celebrate the Mid-Autumn Festival,which also known as the Mooncake Festival.
The other purpose for this doll meet is to do some "minor operations" for the girls. However in this post,we would only concentrate on the Doll Meet portion,the minor operations would be moved to another individual post.
Back to the Doll Meet….
First time meeting each other,both Saber girls took some close-up shots at the balcony.
Both Neris joined in the fun as well since they look so much like twins.
We have two pairs of "long-lost" sisters here today….We are supposed to have three pairs instead,however Mia(Yukino) is not here today.
After taking pictures for an hour,the girls decided to take a snack break….
During the snack break…
They made themselves comfortable on the day bed and started chit-chatting with one another.

This is my third girl Hana. She just had her neck joint changed this afternoon. As promised,i let have this new maxi skirt from Volks after that "minor operation".

Michelle's Neris on the left,my other girl Neris on the right. Its a coincidence that both girls wore the same hair band and blonde wig today.

From the left,Michelle's Yukino,Michelle's Saber Fate Extra,my Saber Alter,Hana
They are enjoying their snacks and ice-cream.

Hana again….I feel that she is the most photogenic girl among the six of them.

Another pair of sisters,Saber fate Extra and Saber Alter.

Took a picture of them from the top view…..and that's my cream color miniature daschund.
More group pictures of the girls taken from different angles.
We decided to move to the bedroom so that all of us could relax a bit.
Playing on the bed….
Looks like the twins had gone a little too over-boarded. LOL….

Saber Fate Extra and Saber Alter joined in…..

This is a definitely impossible pose before changing Hana's neck joint.
Her original neck joint was too loose,she almost had difficulties lifting up her head….
With the new neck joint,both Hana and Saber could pose better.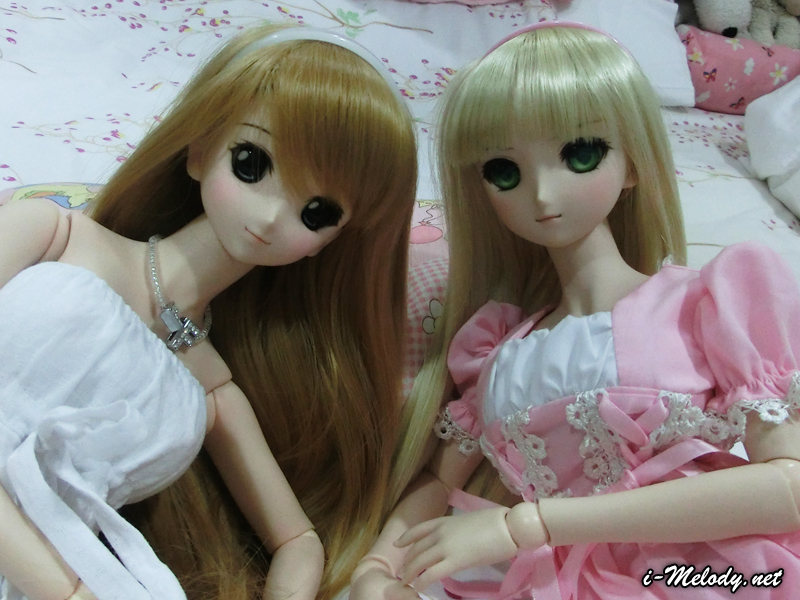 Cuddling the sheep plush toys,the girls look as if they are falling asleep soon…
One more last pic before ending today's doll meet….my Middie Blythe joined in as well.