Its a sunny afternoon today.
The girls were playing in the bedroom when the delivery man came to deliver a parcel containing some items from Volks.
I signed for the parcel and left it on the day bed and went to the kitchen to prepare some food….
The girls came out from the bedroom and saw the big parcel lying on the day bed…

Neris : Hmm….a parcel just arrived again??
Hana : This is quite a big box,i wondered if it contains those stuffs that we bought from online recently?
Saber : Hana,can't you see that invoice issued on the parcel?? Its from Volks!

Hana : Oh….oops,i just saw now. I guess i was too excited just now.
Saber : ……
Neris took the pen knife and started opening the parcel excitedly….
Hana : Quick,quick,Hana want to see what items did mummy buy from Volks this time…
Neris : Almost….wait….this parcel is tightly sealed
Saber : Hana,calmed down….

Parcel opened….Hana found an invoice checklist inside….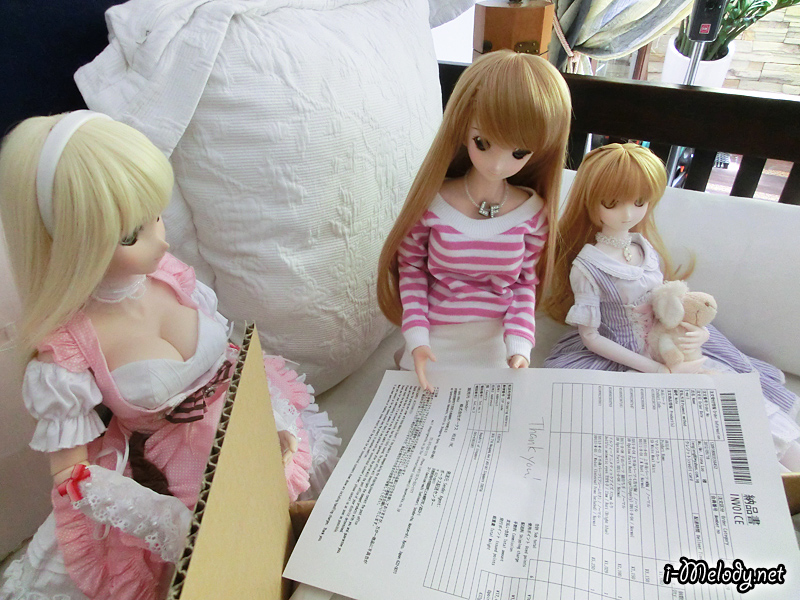 Hana : A list of items that mummy bought,i wondered if any of the items is for me?
Neris : Hmm….looks like are mainly body parts,i don't think its for us.
Saber : Let me see….
Hana put the invoice aside and went through those items in the box.
Neris : DDII shapely bust,DDIII M bust,DDIII waist,a pair of blue eyes etc…..i don't think they are for us.
Hana : *Feeling Disappointed* …. Oh,nothing for Hana…sob
Then Hana found something at the bottom of the box….
Hana : Oh,a white maxi skirt….It fits DDS, DD and DDdy….
Neris : That's good,all of us could fit into this white maxi skirt,just that we are not sure if these items are for us?
Hana : Hana don't care,Hana want this skirt….
Saber : *frowned*….Hana….
Mummy came into the living room….
Mummy : I was about to ask the three of you to open this parcel for me. But looks like you have already done it. Alright,the DD3 waist,DD3 M size chest and the white maxi skirt is ours,the rest of the items belongs to Michelle. Please pack the stuffs aside and i'll pass it to her another day.
Hana : Great! Hana wants this maxi skirt!
Saber : Hana,you cannot be selfish,mummy is buying for the four of us to share.
Hana : You already have a new set of clothes from Volks,while Neris had a nice set of clothes from Dollheart,but sadly,i have none,i felt neglected….
Mummy : Silly girl,all the clothes are mend for sharing,i am sure Neris and Saber don't mind sharing theirs with you.
Neris : Yeah Hanna,because mummy intend to repair your body this coming Sunday,thus she choose something simple for you to wear temporary. Look at these new DDIII body parts,they are actually for you.
Saber : Exactly,mummy didn't neglect you,in fact she loves you.
Mummy : Yes Hana dear,i planned to change your neck joint to coolcat neck joint since the current one is so worn out and loosen. You may put on this new maxi skirt after i have done so…As for your new body,we'll have to wait for the rest of the parts to come in before i could change for you.
Hana : *feeling touched*…..Thank you mummy…Sorry Neris,sorry Saber,i shouldn't be that sensitive just now.
Mummy : Alright girls,bring the stuffs into the bedroom while i throw the box away….
Neris,Hana,Saber together : Yes mummy….